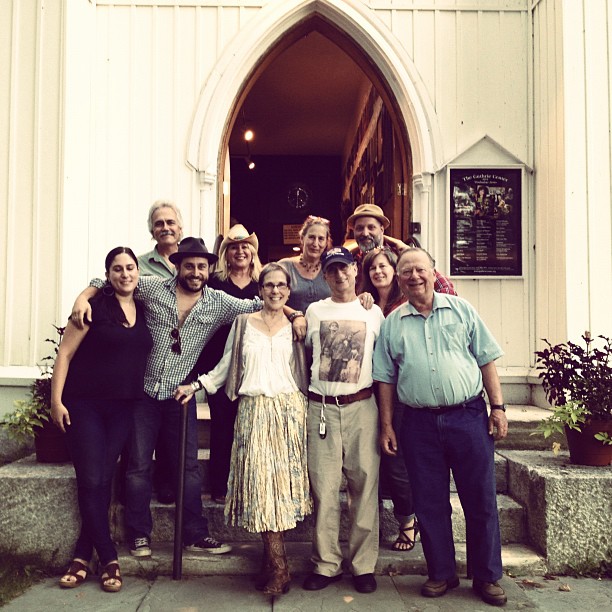 Alan Chartock
Alan Chartock, the Rambler's banjo player, is President and CEO of WAMC, Northeast Public Radio. He is a political scientist who thought up and is now publisher and project director of "The Legislative Gazette; The Newspaper of State Government" that takes students from many colleges and universities and allows them to cover state government under a professional editor. Chartock earned his BA at Hunter College, an MA at American University and a Ph.D. at NYU. Chartock is now professor emeritus in The University at Albany communication department. He is a columnist and participates in several public radio programs. He is considered the premier public radio fund raiser in the United States.
The Ramblers began with the meeting of Joe Browdy and Alan Chartock at the Bronx House Emmanuel Camps. Joe was the music counselor, followed later by Alan. Joe was featured in a concert at what was then known as "Carnegie Recital Hall," along with other greats like the Traum Brothers and Winnie Winston in a 1960's early Hootenany. Joe went on to be one of the top New York City lawyers with the distinguished law firm, Paul, Weiss, Rifkind, Garrison and Wharton. When he retired he moved to Hillsdale, New York where he had always maintained a second home with his wife Sue, and his children. Joe is a graduate of Oberlin College and NYU Law School, and earned his jurist doctorate at NYU where he served as editor for the New York University Law Revew. At Oberlin he hosted a folk music radio show. Alan Chartock says of his old friend who now serves on the WAMC Public Radio Board of Trustees, "I always knew that he rather be playing 'Midnight Special' than practicing law."
Lead female singer Roselle Chartock was Professor of Education at the Massachusetts College of Liberal Arts. She has written extensively on the Holocaust and has published a book, "Can It Happen Again? Chronicles of the Holocaust," on the subject. She holds a BA from Skidmore, an MA from Hunter College and an Ed.D. From the University of Massachusetts. She has also edited the text "Educational Foundations: An Anthology" published by Prentice Hall now in its second edition. She is currently working on another Prentice Hall project on multiculturalism . She is the Rambler least likely to want to play a gig and was highly insulted when playing on top of a truck at a gathering when Joe Browdy said, "Boy did we stink." She has never quite forgotten that even though she agreed.
Selma Kaplan is an accomplished pianist, composer and arranger, and plays the ultimate sensitive and inventive piano accompaniment with rock solid rhythm and swing. She is one of the East Coast's foremost requested dance musicians, and has recorded and performed with versatile fiddler George Wilson, Rude Girls, Jane Rothfield and others. She is also a great harmony singer and teacher.
Songster, multi-instrumentalist and noted music journalist Michael Eck began his career playing punk rock, so it seems right that he's shared the stage with Patti Smith and Pete Seeger. His four solo albums of original songs — including the latest, "In My Shoes" — are filled with roots-rock that traces the bloodline from Blind Lemon Jefferson to Hank Williams, and from Tim Hardin to Tom Waits.
Currently—on mandolin, ukulele, tenor banjo, dobro, jaw harp, jug and broom—Eck plays "78 rpm Music for the 21st Century" with Ramblin Jug Stompers. He adds guitar and mandola to that arsenal to play "Historic American Music" with Lost Radio Rounders—a duo whose programs about The Carter Family, Abraham Lincoln, American Spirituals and Folkways Records have been praised by Seeger himself. Eck — a Featured Artist with National Reso-Phonic Guitars, Inc. — also performs "folk and blues on four strings" under the moniker Ukulele Mike. This year, he is celebrating Woody Guthrie's centennial with his new show, "Bound for Glory: 100 Years of Woody Guthrie."
Dwight O'Neil, hails from Memphis but now lives in Canaan, NY. Dwight is a craftsman and artist, both of music and stained glass. Dwight owns a home studio business called October Mountain Stained Glass which called Pittsfield and Great Barrington home for years before moving in-house. Dwight played his first gig in 1968 at age 17 and has been playing ever since. He took a break to raise his kids with his wife, Karen, but music was never far from his heart. Dwight's major musical influences have been Bob Dylan, The Beatles, Hank Williams, Merle Haggard, and George Jones. He also plays lead and rhythm guitar for the band but it is his genuine southern vibe that keeps fans wanting more and more of this fine musician.
Growing up in the tail end of the 60's in the bay area of California with a guitar in my lap at age 10, not a bad idea. Hitchiking to Golden Gate Park and venues to hear the best music ever, Dona wrote, sang, played and lived her youth through music. The guitar set aside for a while she started using her vocal chords in bands, choirs, and her front porch with friends. She raised her only child, Olivia, to love it all and to do it all and as a result she currently has an indie /punk/original band of her own in Nashville. Dona and Dwight have a classic country band of their own, The Spurs USA.
Don McGrory is a native of Memphis, Tenn., and is best known in these parts as the leader of Don McGrory and the Delta Soul Trio, a band which performed regularly in area for many years. He plays at local gatherings with his friends as often as he can now. A killer slide guitar player, Don is the proprietor of Donald McGrory Oriental Rugs, in West Stockbridge, MA,which keeps him very busy.
Alice Oldfather has been playing music a long time. She was first introduced to the Berkshire Ramblers by her neighbor, friend, and jam session buddy, Jonas Chartock. Alice live in Albany where she writes and is a life coach. She plays with several bands, mostly in the area, provides great vocals, and enjoys her gigs with the Ramblers.
Sarah Chartock, originally from Great Barrington, Massachusetts, is a resident of New York City and is Assistant Professor of Political Science at The College of New Jersey (TCNJ). Her research and teaching revolve around issues of social policy, race and ethnic politics, socioeconomic inequality, political parties, and social movements, largely in the Latin American context. Like her brother, Sarah has been playing on and off with the Ramblers just about since birth, and is happy when she can make it back to the Berkshires (or wherever they are playing), to join in the hootenany fun.
Jonas Chartock is a native of Great Barrington, MA, and was literally born into The Berkshire Ramblers, starting out on washtub bass and is now featured on rhythm guitar and vocals. He resides in New Orleans and is the Chief Executive Officer of Leading Educators.